SP05: Migration or acculturation – the genesis and dispersion of the early Fritzens-Sanzeno-Culture (5./4. Cent. BC)
Principal Investigtor: Prof. Dr. A. Lang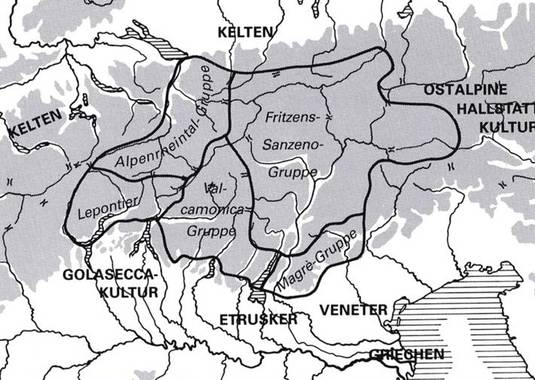 Around 450 BC, the Fritzens-Sanzeno-Culture developed in North Tirol, South Tirol and Trentino by way of the Inn-Eisack-Etsch Passage and created a unified inner-alpine cultural group , characterized by e. g. similarities in material, house construction, metallurgic technology and religious beliefs. The question arises whether this culture developed out of migratory events, or if it is the result of a an acculturation process.
Discerning between migration and acculturation is only possible through the isotopic analysis of cremated human remains and human skeletons, dating back to the beginning of the Fritzens-Sanzeno-Culture and the late Hallstatt period. Available are samples from North Tirol (Kundl), South Tirol (Moritzing, Siebeneich, Pfatten) and Trentino (Zambana). Potential places of origin are to be determined by a multi isotope fingerprint (Sr, Pb, O). The application of two isotope systems of heavy elements (Sr, Pb), which do not entail thermally induced isotopic fractionation, for the first time permits an isotopic analysis of cremated bones.
Isotopic analyses of animal remains from burials, settlements and an ash altar site will give information about import and export of animals and their impact on livestock farming and farm animals resp. local livestock breeding. Furthermore for the first time it is possible to determine the catchment area of the wild animals which is widely not influenced by humans. Beyond its special scientific scopes, this project therefore also has implications for modern biodiversity research and the reconstruction of anthropogenic environment genesis.




Bronzesheet with inscription Bronzesheet rider Fritzener bowl Bowl with comstamp adornment