SP03: Central IT services for processing, storage and analysis of bioarchaeological and archaeometric data by means of similarity search, cluster analysis and outlier detection.
Principal investigators: Prof. Dr. H.-P. Kriegel, PD Dr. P Kröger
Because of their complexity, the data established within this research group can no longer be managed and analyzed manually. The application of suitable methods for the management and automation of analysis is therefore indispensable for the success of the whole project.
The goal of this subproject is the development of innovative methods in the field of computer science, which permit complete scientific analysis of project related data despite their complexity. It focusses on data management and automated data analysis (similarity search, cluster analysis, outlier recognition) for the establishment of small-scaled isotopic fingerprints, and supports the project partners with regard to their scientific problems. To achieve this goal, a close interdisciplinary cooperation between all scientists of the research group is necessary, which in the process generates synergy effects.
Due to the complexity of the archaeometric data, entirely new challenges arise for the field of computer science that require the development of innovative solutions. This results in new insights for the users which could not have been gained by traditional methods, and provides the opportunity of crossing the present boundaries of scientific progress.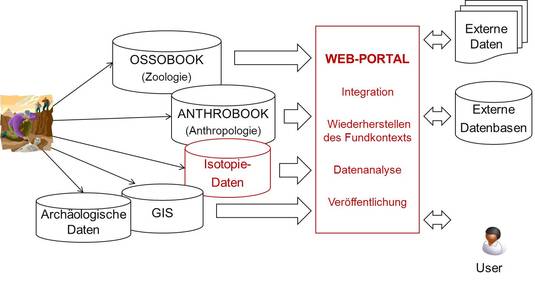 IT-Infrastructure